HOTSTART Launches New Brand
3月 2, 2020
Spokane, Wash. March 2, 2020 – HOTSTART, a world leader in the design and manufacture of industrial heating solutions for engines and equipment since 1942, launched a new brand, logo and tagline today. "Hotstart Thermal Management" positions the company as the leader in performance-improving heating and cooling technologies that keep the world running.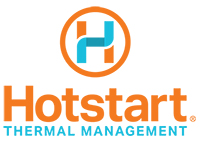 As the world develops alternative energy sources, Hotstart saw opportunities to evolve strategically and align with future customer needs. In response, the company is expanding its capabilities into cooling solutions, rounding out the company's thermal management offerings.
| | |
| --- | --- |
| "We're excited to take the company in this new direction," said Terry Judge, CEO of Hotstart. "Our new brand signals that we are the partner customers can depend on as their businesses evolve. It's exciting to see our amazing people accelerate development of new, innovative solutions for current and future customers." | |
In preparation for the change, the company surveyed customers for feedback on its current brand. Based on those responses, the company evolved the existing identity, allowing it to maintain its brand equity and reputation.
In addition to the new brand, a new tagline was developed – Improved Performance Starts Here. The tagline addresses specific customer feedback regarding the need for improved performance of their equipment. Heating and cooling technologies from Hotstart improve the performance of engines, equipment, batteries and other systems by optimizing operating temperatures of critical fluids and components.
About Hotstart:
Hotstart thermal management solutions keep the world running. We are a trusted partner focused on delivering performance-improving heating and cooling technologies. This requires innovation beyond expectation and collaborative partnerships.
Customers depend on us for reliable thermal management of their critical systems. Our long legacy of engineering and manufacturing expertise is only part of the Hotstart story. Behind everything we do is a commitment to quality, continuous improvement, and exceptional service.